When it comes to vegan milk options, many people's first instinct is to run and pick out a soymilk or soybeans milk brand at their local grocery store. A soymilk maker may not even pop into your head at first, especially if you are new to veganism.
It can also be difficult to find the best soymilk maker for your needs if you aren't sure how they work in the first place. But these milk makers aren't even exclusive to vegans, if you are lactose intolerant, replacing your dairy milk consumption with soy milk is a perfect way! Feel free to also look at our soy milk benefits article to better understand it. 
In this article you will learn not only what the best soymilk makers are, but how they work, how to clean them and of course, how long the soymilk will last!
Buying another new kitchen appliance may not be in your budget at the moment, and that is perfectly okay. Especially if you aren't exactly sure if you would like homemade soymilk compared to your accustomed store-bought version. 
Luckily, if you have a blender, strainer bag, and saucepan, you can try to make your first homemade batch without a soymilk maker. Granted, it will most likely taste even better when you decide to purchase one, but this recipe is a great place to start. She recommends adding vanilla extract and dates to naturally sweeten your milk to give it more of a taste like you would buy in the store. 
This is a more labor-intensive process than using a soymilk maker, but it's a great way to test out the waters. 
For those ready to purchase a new soymilk maker or those just wanting to research, I have compiled a list of the best soymilk makers on the market right now. 
Best Soy Milk Makers for 2023
Soyajoy is another company with great results with their soy milk makers. The Soyajoy G4 is their newest model and has a 1.7-liter capacity, which is bigger than their G3 model. The first Soyajoy soy milk maker was introduced in 1998. You can find our SoyaJoy G4 review here.
The Soyajoy G5 has improved on all the functions of the other three generations of the machine while adding some new features along the way. This newest model includes a stainless steel outside, as well as a stainless steel inside. They also feature the Perfect Grind Technology making it to that you do not have to use a filter while making your milk. 
This technology combines the blade design along with the design of the chamber to consistently draw the largest pieces up toward the blade. The geometry used to accomplish this is what other companies lack with their filter-less designs. 
Heating Function: 
This machine uses bottom heating technology. The heat rises from the bottom of the machine and heats the milk from the bottom up. The blade chamber helps stir the heated milk around the chamber until all the milk is thoroughly heated. 
The Soyajoy G4 includes: 
Microprocessor

Temperature sensor

Water level sensor

Boil-over sensor

Advanced solid-state control technology 
It continuously monitors the controlled heating power and blending. This allows for maximum heat without burning the milk
The programmed functions include: 
Soaked beans

Dry beans

Raw juice

Grains

Porridge
There is also an option for the machine to keep your milk warm for you. This feature is great to have if you are busy and not ready to drink the milk as soon as it's ready. On top of this, the machine comes with two sizes of measuring cups and a mesh screen strainer, as well as a 4-year warranty available at purchase. 
Pros:
Saves you money in the end
Easy to clean
Doesn't take much counter space
Holds 32oz of liquid
Comes with a recipe book
Cons:
This machine is not as durable as other machines
Noisy
Sometimes burns milk
This company has been making appliances since 1974 and their most recent soy milk makers were manufactured after nearly 20 years of research and development. This makes them some of the most well thought out soy milk makers on the market today.
This soy milk maker is complete with a stainless steel inside with ultra-fine grinding technology that has a narrow grinding compartment. The narrow compartment ensures that all the beans are ground as finely as possible, releasing all the nutrients from the bean, as well as ensuring the milk is smooth and tasty. 
Joyoung has been using ultra-fine grinding technology for the past 20 years. This technological breakthrough set their company apart because it allows them to manufacture machines that produce the highest-grade soymilk. 
Heating Function: 
There is also a unique 360-degree heating function. Rather than only heating from the base of the pot, this machine heats the milk all the way up the pot. This makes sure that the milk is heated evenly and thoroughly. 
This particular Joyoung soy milk maker has a total of nine functions including: 
Grains

Dry soybeans

Soaked soybeans

Rice paste

Aromatic soymilk

Porridge

Nut milk

Juice

Rapid soymilk
You are getting all of these functions plus a cleaning function for a steal of a price. If you order off of Amazon you can also purchase a 3-year or 4-year warranty at checkout. 
Pros:
Doesn't need straining
Easy to clean
Great quality soymilk
Lightweight
Built to last
Cons:
A little noisy
You don't get as much soy pulp to cook with later
The blade will need to be sharpened often if you use the machine daily
Joyoung also makes the DJ13U-P10 model, which is the higher-priced soy milk maker on the market right now. This soymilk maker is more suited for a family drinking soymilk rather than just one person.
It also has a few more functions including: 
Dry soybeans

Soaked soybeans

Classic soy

Grains

Rice paste

Nut milk

Porridge

COM juice

Juice

Date soy

Goji soy

Rose soy
On top of this, it has a digital timer as well as the 360-degree heating technology. You are able to set the temperature from warm to hot for the perfect temperature drink. 
When you purchase this item, you get a small measuring cup, large measuring cup, cleaning brush and manual included in the purchase. This machine doesn't have a self-cleaning button like the other model, so the fact that it comes with a cleaning brush makes for an easier cleaning regimen. 
Pros:
Doesn't need straining
Easy to clean
Keeps milk warm for as long as you have the timer set
Lightweight
Great flavor
Cons:
A little noisy
The English is a bit small and hard to read
Classic soy option is a lengthy process
The Soyapower G4 model came out roughly about the same time the Soyajoy G4 did. The two machines are comparable in a lot of ways, but there are a few things that set them apart from one another.
The Soyajoy G4 has a 1.7-liter container capacity, while the Soyapower G4 can hold 1.2 liters.
The Soyajoy G4 has the stainless steel inside and out, but the Soyapower G4 has thermoplastic casing around the stainless steel pot to help contain the heat inside the machine. 
The Soyapower G4 also has a few more functions than the Soyajoy including: 
Dry beans

Soaked beans

Grains

Porridge

Soup

Raw/Juice

Mung bean

Hot chocolate
This machine also comes with two sizes of measuring cups, as well as a mesh screen strainer for more convenient filtering. Also, like the Soyajoy G4, you can choose to purchase a 4-year warranty at checkout.  
It is also equipped with: 
Boil-over sensor

Dual sensor
Detects the temperature and water level for proper cooking time without burning

Water level marks 
Pros:
Easy to use
Easy to clean
Strainer works well for smooth milk
Quality milk
Cons:
Not as durable as other machines
Noisy
The recipes booklet isn't very clear
Tribestlife is a company that makes more than just soy milk makers. They have every appliance you might need to help you live a more sustainable life in the kitchen and quit relying on store-bought items. Their list of products includes blenders, juicers, dehydrators, water revitalizers, yogurt makers and even kitchen tools and humidifiers. 
This is a company dedicated to "Making healthy living easy". 
Their Soyabella soy milk maker is a clear-cut device that is easy to use. The programmer pad only has three buttons. Instead of programming this machine to make soy milk, you simply attach the stainless steel milk screen to the device and begin. If you would like to make rice paste or sesame paste, there is a separate screen for this. 
You can even grind coffee beans with this machine using another accessory that comes with it. 
This soy milk maker is complete with three rubber suction cups at the base to help it stick to the countertop for stability. It also has an overflow sensor to keep it from boiling over. 
Not only are the screens stainless steel but so is the base, ensuring you won't get any plastic in your beverages or soups. 
Heating Function: 
This machine is temperature-controlled, and the heating chamber is concealed. Because of this, you can handle this machine with the assurance that you are safe from burns, and so is your milk. 
Easy to clean
Pros:
Doesn't call for extra straining
Quality milk
Holds a lot of milk at a time
Cons:
Not very durable
No 90-day money-back guarantee
The overflow sensor malfunctions sometimes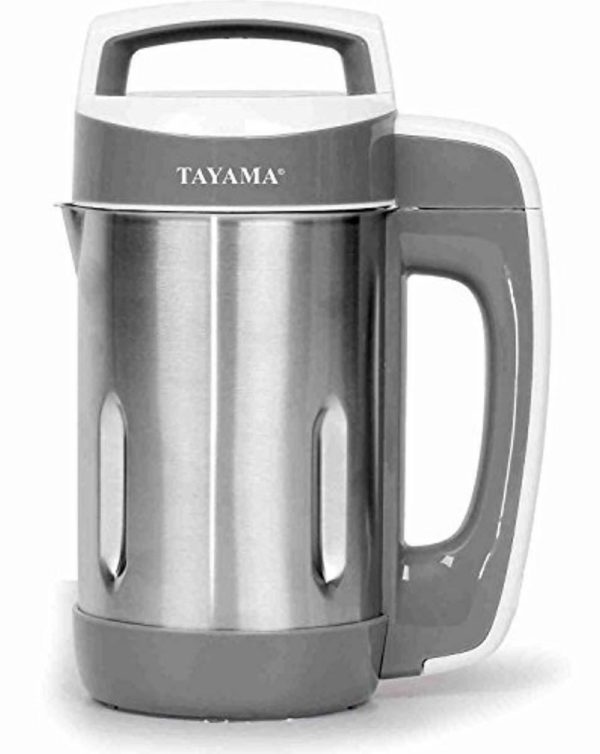 The Tayama company is based out of southern California and makes a wide variety of electrical kitchen appliances. The soy milk maker is one of their best-selling products, and it also comes with a one-year warranty. Amazon also features a free return policy if you receive the product and there is a malfunction of some sort.
This latest version of the Tayama soy milk maker features a filter-less design by incorporating an ultra-fine grinding technology. In return, you are left with higher quality, smooth soymilk. The filter-less design also makes the cleaning process quicker and easier.
The stainless steel body has a 1.5 maximum liter capacity. It also comes with an automatic multi-protection sensor to prevent overflow and dry cooking.
Heating Function: 
This product showcases a 3D heating system. Unlike the previous models from this brand, this machine does without the outdated heating tube. Instead, the machine applies heat throughout the body to evenly distribute heat and cook your beverage perfectly.
This soy milk maker is simple yet effective. There are four programming functions:
Dry/Soaked beans
Rice/Bean paste
Fruit/Veggie drinks
Pureed soup
Although this soy milk maker features ultra-fine grinding technology, it is still sold with a separate strainer. This company wants to make sure you are satisfied with your purchase and your milk. The fact that the strainer is separate makes it easy to clean, while also ensuring your milk comes out smooth every time.
Pros:
Built to last
Great tasting milk
Meets all expectations
Easy to use
Cons:
The machine gets hot to the touch
Not ideal for large families
Doesn't come with a recipe book
The home page of the Idavee brand claims that "you'll never want to buy soy or almond milk at the store again." This soy milk maker features a large ½ gallon capacity, much larger than many of the other soy milk makers on the market today.
Another thing that makes this machine stand out from the crowd is the fact that there isn't any plastic that touches your beverage. This machine showcases two layers of stainless steel. The only plastic on this machine is on the handles on the outside.
The base can hold a ½ gallon, but the machine design makes the body appear slender. This allows for more counter space and less attention being drawn to the appliance as it sits in your kitchen.
This machine also showcases filter-less grinding for easy cleanup. That being said though, it still comes with a separate straining accessory to make sure that your milk is always smooth.
Heating Function: 
The Presto Pure soy milk maker has a bottom-based heating system. The stainless steel blade and chamber are designed in a way to help evenly mix the beverage to allow for even heating.
There are seven different programming functions on this machine. They include:
Dry bean/nut
Soaked bean/nut
Porridge
Rice soy milk
Corn juice
Pureed soup
Juice/Clean
The cleaning function allows for even easier cleanup, being one of the only machines with this built-in function.
If you buy this product and it malfunctions or needs replaced within the first year, there is a one-year warranty for this. on top of this, you have the choice to purchase a 4-year warranty at check out.
Pros:
Makes milk quicker than other machines
The quality of the milk is great
Customer service is efficient
The strainer is way easier than filter bags
Cons:
Bottom heating isn't always the best
Porridge function doesn't work as well as milk function
A little noisy
How Do Soy Milk Makers Work?
Soy milk makers have changed the game for making soy milk at home. You no longer have to let your soybeans soak for 24 hours beforehand. Simply add the beans to the machine and push a button. It really is that easy. However, it is still recommended you soak the beans for at least four hours to help the milking process get started within the bean.
These machines can also make almond milk, rice milk, and other plant-based beverages and porridge.
Here is a step-by-step of how to use the average soy milk maker:
It isn't mandatory, but it is recommended to soak your soybeans for four to six hours before making your milk. This will yield higher-quality milk and you will also get more out of each bean this way.
After soaking is complete simply pour the beans with water into the milk maker. You will most likely need to add a little more water to the machine to meet the fill line.
Close the lid and set the processing program to soy milk or dry/soaked beans. Then press start
Once your milk is complete, it is recommended to strain it twice over. This will ensure you get all the pulp out and leave you with a better-tasting, non-grainy milk.
Keep in mind that you will want to let the soy milk maker rest for at least two hours before trying to make more milk. You don't want to put too much stress on the engine at once.
The soy milk maker will produce a soy pulp, also known as okara. This is what gets strained out. You can save the pulp and use it to make a number of different recipes.
Some of these recipes include:
How Do You Clean A Soy Milk Maker?
A few of the soy milk makers on the market today have a built-in cleaning function. Simply pour water into the chamber, set the program to clean, and press start. The machine will take care of the rest.
The machines that do not have this feature a relatively easy to clean now that most of them no longer use built-in filters. Most of the soy milk makers today have a separate strainer so you don't have to worry about okara getting stuck at the bottom of the machine.
To manually clean your soy milk maker you must follow these steps very carefully:
First things first, unplug the machine from the wall
It is important to clean your soy milk maker immediately after you are done using it. Especially if you are using it to make soy milk.

The okara hardens up fairly quickly after the process is complete. The longer the machine sits, the harder it will be to clean

Another important thing to remember is there is an outlet that connects the lid/engine of your soy milk maker to its base. It looks like a plug-in.

Do not submerge this in the water! You must keep this part of the machine dry at all costs

To clean just take soapy water and the included scrub brush throughout the chamber and blade.
Once all the debris is cleaned off you can rinse and dry

Make sure to thoroughly dry the machine to prevent it from rusting
After you have completed these steps, your soy milk maker is ready for use.