Vegan Burgers For Memorial Day
It's that time of year again here in the United States. It's the unofficial start of summer. Actually, I'm a little premature. Monday will be the Memorial Day holiday, and this weekend is when most of us break out the grill. Now living in Southern California, I have truly lost all sense of seasons. It's either warm or hot, and we can grill year round. But we will be out there on Monday, along with most of America.
I don't know what the rest of you have planned, but we're having some family and friends over. We'll be serving the traditional fare of salads, burgers, hot dogs, and corn on the cob. The only difference is we'll be serving vegan fare. We'll also be grilling a bunch of portobello mushrooms and a slew of veggies from the farmers market, plus a bunch of onions and peppers, because in our opinion, they can really make a burger or dog!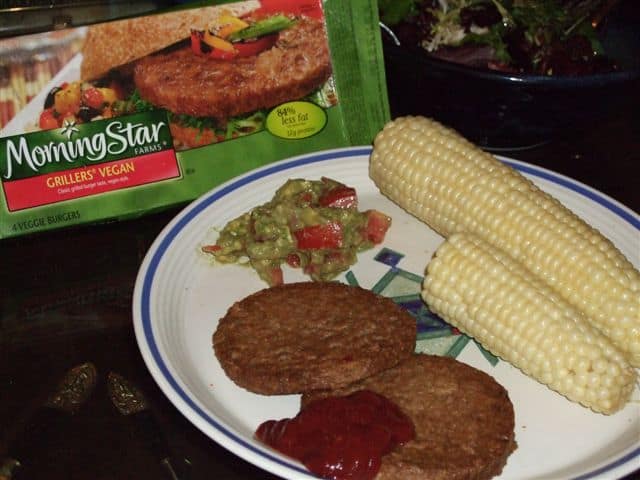 We bought MorningStar Farms Grillers Vegan last week at our local Trader Joe's (they retailed for $2.89 for a package of 4 burgers). We figured we'd give them a test run tonight. They were delicious! And, we both thought they tasted like meat. Granted, neither one of us has tasted meat in an awfully long time, but they tasted like what we remembered beef patties to taste like. They smelled like meat too. And it bears repeating, they were delicious!
We don't eat a lot of the MorningStar items because they often have egg, milk, or cheese in their products. For example, the Chick'n and Garden Veggie Patties contain milk and eggs. But these burgers specifically state "vegan" on the package. MorningStar Farms even goes so far as to say "natural flavors from vegetable sources" which should put a number of people at ease. Unfortunately "natural flavors" can, and often does, mean derived from animal by-products.
If you haven't tried these yet… we highly recommend them. They're 100 calories a patty, with 12 grams of protein, 7 grams of carbohydrate, and 2.5 grams total fat.
Consumer Reports has an interesting article entitled, Healthful Burgers That Taste Good, in which they laud the veggie burger, saying that 10 of the 12 burgers they reviewed were very good. (Parenthetical comments are ours.)
CR's take. MorningStar Farms Garden Veggie Patties (not vegan but the Original, Roast Onion, and Roasted Garlic burgers are vegan) are a top choice, falling somewhere between meatlike and grainlike, and they're especially moist and flavorful. If you're looking for a meat wannabe, consider Boca All American (not vegan), cheaper than most at 96 cents per burger. Eaten on a bun with condiments, it could be mistaken for ground beef. If you don't favor a meaty taste, try Dr. Praeger's (we like the Tex-Mex burger), whose crisp vegetables and soft filling have a flavor that comes through best without toppings or bun, or Gardenburger Portabella (not vegan), which stands up to bread plus trimmings. Lightlife (as of this writing, only the Light Burger is vegan), the priciest of all, is low in flavor and high in sodium.
Surprisingly, everyone we invited was game to try a vegan meal. We expected a few people to decline because we won't cook meat here. We've found our burgers, the ones we believe might even fool or convert our omni friends. For our "meat" burger, we'll be serving MorningStar Farms Grillers Vegan. For those not looking for a "meat" taste, we'll serve the Gardenburger Black Bean Chipotle Burgers (our review at this link).
We don't believe in beating anyone over the head to make our point, but we believe in leading by example. Perhaps we'll win a few converts to our cause. Provided I don't burn the burgers!
---